Cruise Ships
The American Queen returned to the Mississippi River two seasons ago. This grand riverboat is the last of the three original Delta Queen paddlewheelers. The Delta Queen has been decommissioned since it's Coast Guard exemption has expired. The American Queen Steamboat company is the new owner of this American classic. (They changed their name recent from the Great American Steamboat Company) Be one of the first to sail on the Mississippi in the grand style.
American Queen Steamboat Company
2 Cabin Category Upgrade - Save up to $3200*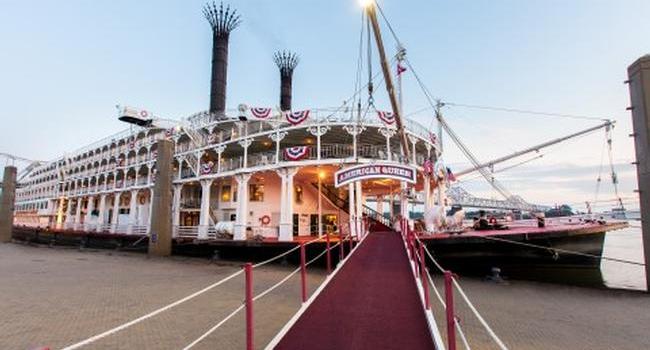 Big Band

Get in the mood for our sensational Big Band Vacations, when special onboard guest orchestras play the tunes you know so well, all in the original arrangements that made them legendary. If you are a fan of the big bands, this is a sentimental journey you won t want to miss.
Southern Culture & Spring Pilgrimage
The Pilgrimage Open House tradition began in the 1940s, when members of the garden clubs in Natchez, Mississippi, began hosting tours of their gardens in the spring. Later, they also opened their lovely homes and Pilgrimage became such a popular idea that it quickly spread throughout the Mississippi Delta. Join us in the spring and enjoy fascinating speakers, lively entertainment and informative tours that will enhance your understanding of our antebellum legacy.
Good Old Summertime
Be transported to a simpler time when summer was about fun, freedom, friends and food. Fly kites off the top deck, enjoy apple pies and cherry cobbler and immerse yourself in the music and stories of a time gone by.
Select Your Cruise